30 + 72 points
May 5th, 2011 1:57 AM / Location: 60.120987,7.7069091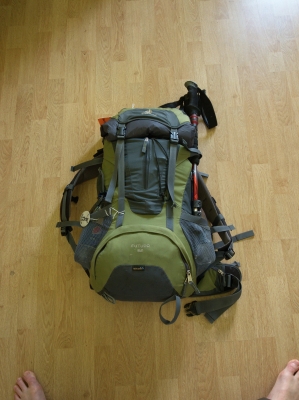 This is not just a bag for eventually bugging out. It's
my
bag that that accompanies me on almost all of my travels and hiking trips. It it usually packed ready for action, in a way that allows me to camp out for three to five days anywhere on a whim and to get me there, cross-country.
Let me clarify that. What's so particular about the bag?
Nothing. It's just small enough to force you to think small. 32 liters, and light enough so that you do not need to wear hiking boots for hiking anymore. I don't usually like to be among those bragging about equipment or weight, but this task is about efficiency, and so I'd like to share the optimizations I found viable. I usually carry between four to eight kg, depending mostly on the amount of food I need to take.
It's actually an ever-changing list, but here are some of the contents I have settled on, and the
afterthoughts
. I hope it can help you give an idea on how to scale down: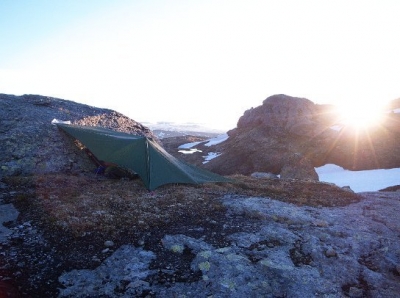 Accommodation:
Tarp. 300g. Can be used as rain shelter, tent, hammock, handbarrow, usually when combined with hiking poles or terrain features. A second, smaller and lighter foil (50g) to protect against the ground. Depending on how you configure these, it can be as windproof as a tent, or much better ventilated. It definitely is going to be larger than your usable tent space.

Ultradense mosquito net (250g). We're talking about camping out in Norway here.
The above combination saves me about 1kg on a tent, and yields either a tent or a hammock. This one sleeps two people with ease, possibly four.

Inflatable insulation mat

Sleeping bag. Yup, you could do without one with the right clothes, but it's nice to have something to sleep in while you dry your washed clothes. This is why you won't find any spare clothes in my bag. Replace this with a -35C, 2.5kg bag for hiking in winter.

Maintenance:
Basic hygiene (eco-friendly soap flakes for washing, also clothes. Flakes are less of a mess.; toothbrush.)

Duct tape, dental floss (aka repair kit). Dental floss is among the lightest, strongest wires you can find, and it is more flexible than fishing wire.

First aid kit. (Clean non-stick bandages to cover wounds small and large, cuts and to stop bleeding. Much more can be improvised with tarps, duct tape and hiking poles).

Knife

Waterproof compression bags / "snake skins". They keep your stuff dry, small and have a slippery surface (to push it in the tiniest compartments).

Food:
Usually dry food for three to five days, most of which need just soaking rather than actual cooking. Couscous, breakfast mix (cereals and chocolate/coconut milk powder - just add water), salt, spice mix, nuts.

Small liquid containers. You do not really need to carry water in Norway

Universal cooker (with a screw/pressure cap for the PET bottle standard), small bottle of gas, two sources of fire

pot, spoon.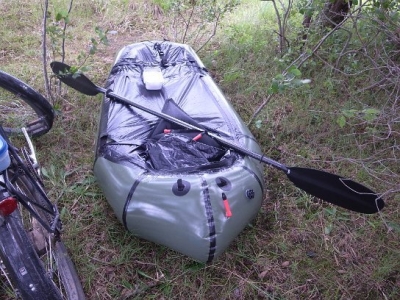 Transportation:
A boat. That is, an inflatable, whitewater-proof packraft with foldable paddles. May be considered a luxury, until you reach a stream full of glacier water.

Plastic bags. They keep your feet dry, contain trash, and smelly stuff.

Telescopic hiking poles. Protect your knees, help you in unsafe terrain, fence off raptors and double as any other poles you may need.

Miscellany:
A camera. It also serves as my external memory at times.

A xaphoon. A rugged, plastic, wood-reed instrument that sounds almost like a sax. Also good for scaring people in the lonely wildernesses.

Ribbons from miscellaneous Journeys. For the storyline.

Disasters? I flee from the daily grind.