15 + 86 points
February 21st, 2010 5:16 AM / Location: 34.083385,-118.2952


I started this task on January 17th 2010.

Well, no. I installed the first piece of this task on January 17th 2010.

I started work on it much much earlier, that date is lost to the ages, although it was probably sometime around September of 2008.

I thought of what kind of interval I'd use, spatial or temporal (or emotional, thanks Amoeba Man), and I got bogged down in trying to do this with ALL of those intervals. And I had plans for doing all of those, but chose simply Temporal.

Well, obviously there's a bit of spacial in there as well, there kinda can't not be, right?

OK, let's skip ahead to January 17th 2010.

I chose that date, because I had also chosen my location. There is a power junction box a little ways down from my theater in the middle of the sidewalk, I figured it would make a fine display for my comic strip.

And I knew I had to install my strips in the dead of night when I was less likely to be witnessed. And on Saturday nights at my theater we have a show that starts at 11:00pm, and we wind up staying at the theater well into Sunday morning after the show. So I chose to do it early Sunday morning after the Saturday show.

And since there are six weeks worth of shows in a row, I decided to make my comic strip six issues long. So that after every show in the cycle, I could sneak out in the dead of night and post a new strip every week.

Also in keeping with the theme I decided to make each strip six panels long. I was inspired by the best book ever written, Watchmen (don't worry, I'm not trying to compare my work here with that piece of literary genius) in structure.

So six panels, six strips over six weeks. This is what I did.
Week One:

Week Two:

Week Three:

Week Four:

Week Five:

Week Six:
I would also like to note that I drew all of the panels by hand with an ink pen on standard white copy paper. I affixed the strips to the box using wheatpaste that I learned to make specifically for this task. So far I rather enjoy using wheatpaste.
Although I'm going to have to do some more testing with the unfamiliar substance. I don't like how fast these strips have faded in just the six weeks it took me to complete the task.
And I uploaded large files, so you can click any of these open and get pretty ridiculous detail if you'd like.
*Update*
2-24-10
I went to my theater on Wednesday night to do some set construction and while my friend went out for a cigarette break, I went to go check on my strips. I found this: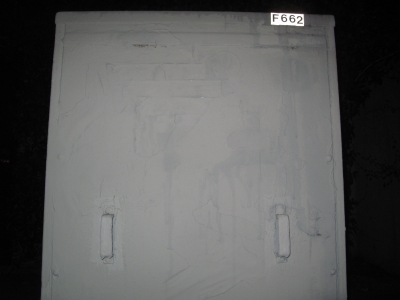 I guess the city painted over it.
So now it only exists here on SFØ.
And in our hearts.
Let's please to to remember it like this: