45 + 137 points
October 13th, 2011 8:02 PM


The goal:

To create a fully playable game with cards that "featuring real-world desires, actions, people, objects, feelings, laws, or anything else. Use the deck by playing appropriate cards in appropriate situations in your real life."

Pixie: "Hey Ty, what do we do with our lives"

Ty: "** ****** **** **** ** *** ****** ***"

Pixie: "Other then that"

Ty: "Play SFØ"

Pixie: "Hey, ace in the hole is in your task box"

Ty: "I'm on it"

With that in mind Ty Ødin and Pixie proudly present to you...

A FULLY PLAYABLE SET OF MAGIC CARDS! SFØ STYLE! Click here to download a copy of the cards

.

All of the cards in this set are up to DCI tournament regulation and fully playable in any deck. You can print them out to play them, or just insert one into your already existing deck. There are a balanced amount of common cards, uncommon cards, rares and mythic rares in the set. Ty will have to explain the mechanic's because I am fairly new to the MTG (magic the gathering) world and thus, was not very helpful coming up with rules. I contributed mostly in finding pictures, and occasionally explaining who people were/are (such as that KristinawithaK is also The Vixen.)

He honestly did most of the work, and I mostly uploaded the thousands (143, but that's close to thousands) of pictures, and provided "moral support".
Many of the cards directly reflect the nature of the players they represent. For example: Anna One likes to masquerade.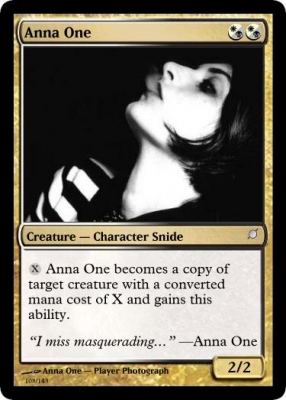 Her ability is to copy other creatures, thus, masquerading. This took a week and a half, fuck tons of patience (especially on Ty's part) and
vodka
Love. Also, lots of diving into the mysterious and disturbingly pornographic depths of deviant art.
Now, without further delay, I present Ty who will explain Mechanics!
MECHANICS
If you play MTG, you can really skip most of this. The only new part is the addition of a "Points" Mechanic. If you don't play magic, you should learn!
Here is a link to instructions on how to play magic.
more relevant terminology is provided below
Old Mechanics (for non magic players)
In a magic game your objective is to reduce your opponents life total to 0 from it's initial value of 20. You do this by attacking with creatures or casting spells.
Trample- A creature with trample deals damage that hurts the opponent even is he's blocked.
Flying- Flying creatures can only be blocked by flying creatures.
Regenerate- Keeps a create alive when it should be dead.
Haste- A creature with haste can attack immediately when it comes into play.
First strike- A creature with first strike hits faster than other creatures.
New Mechanics
If a player has 10 "points" during his end step he wins.
Each color is associated with a trajectory.
Black- U of A
Green- Biome
Blue- BART PA
Red- Equivalenz
White- HC
Colorless- CE
Multicolor- Snide
List Of All Included Players
A M
Albescent
Anna One
Artmouse
Augustus deCorbeau
Babe
Ben Yamiin
Bex The Master
Bro Lyx
Brock Dubbels
Bryce
Burn Unit
Charlie Fish
Clown Face
Comit
Cookie
Cthulhu Kitten
Curious George Foreman
Dan ØwO
Death Cube
Dela Dejavoo
Dr Subtle
Fpenguin
Gadget
Ghost Naming
GYØ Ben
Help I'm A Bear
Indy
Ink Tea
Jason 7au
Jeffery Sayers
Joseph Carnivale
Joshua Harrington
Jtony
Juliette
Kattapa
KC
King Of Spain
Kingtycoon Methuselah
Kristahill
KristinawithaK
Likes Music ØWO
Lincøln
Littlemonk
Loki
Lowtek
Markov Walker
Martina Schell
MAYOR OF CLAYCORD
Meredithian
Mikey Wiesepape
Miss Understanding
Møbius
Mock Piratey Turtle
Morte
Møuse
Mr Everyday
Mrs. Goblin Pants
Myrna Minx
Ombwah
p00n
PDØ Clementine
Picø ØwO
Pixie
Pizzaz
Poisøn Lake
Pope
Rabid Badger
Rainbow Road
Rathazaxx
reep Peck-Kriss
Reiko
Relet
Rin Brooker
Rongo Rongo
Rubin Starset
Saille Is Planting Praxis
Sam Archer
Samantha Ebay
Sardonicus Tweed
Sass Afrass
Selah Scout
SF0 Daemon
SF0 Police
Shady Grey
SNORLAX
Spencer Riedel
Spidere
Squibbs
SSI
Star5
Supine
T. Keane Baker
Tac Haberdash
Teucer
The Revolutionary
The Villain
The Vixen
Togashi Ni
Tøm
Ty Ødin
Waldo Cheerio
Wildbear