35 + 24 points
November 7th, 2013 11:10 PM


In 2012, relet brought the Journey to Gothenburg. In June, I posted an announcement saying the Journey will happen on the Couchsurfing event boards. Within a month, I had enough contributors for a coordination meeting, where I met wonderful and enthusiastic locals. Three months later, in torrenting rain, 150 runners ran for their lives. One year later, in 2013 the locals have taken it into their own hands to organize the Journey - 230 runners crossed the finish line.

Journey GBG

All attached pictures from 2012. Unfortunately, file upload in sf0 is broken, but many wonderful memories can be retrieved from this

external drive

.
-- The funniest part were all the confused surprised reactions of the "regular" People. I saw a guy running so I just started chasing him for a looooong time and got him! But, he wasnt a player, he was freaked out. Haha.

-- I was running from a guy, who was a regular jogger, his face said it all :b

-- We were chased in Slottskogen when the chaser grabbed a couple. Unfortunately they had no idea what was going on and we all escaped savely :D

-- Haha! I was the guy that caught that random couple! They said "we're not playing, we started running because we thought you were a serial killer or something!" Understandable since I was in all black and had my hood up!

-- I have never been so happy to see people on bicycles before ;) Then I knew I was safe :)
Kattapa's story, a.k.a. Dr. M.: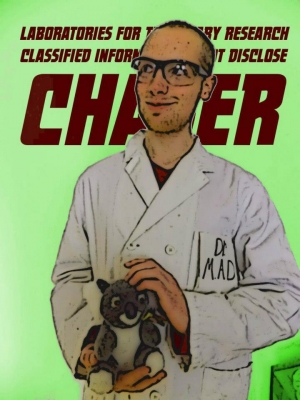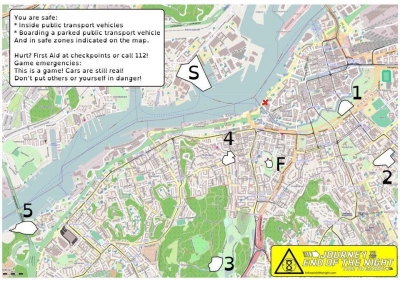 19:15, location marked on the map above
In a few moments a ferry full of runners will arrive. I'm half hidden, awaiting my prey. They walk past me as I give them a small head start, before I slowly start walking and then run. The crowd disperses as they run away from me in fear. Seeing a large group of people run from me like that was a lot of fun.
I made to checkpoint one were the other chaser was waiting. (We were only two chasers, although not for long.) I soon caught my first victims and hunted in teams for a while. Especially fun was when a runner didn't notice us, giving us plenty of time to get into position and each cover a corner of the street.
After I while, intel (Relet) told us, the two original chasers, to go ahead to checkpoint 4. However, when we got there it was already surrounded by chasers. It was very satisfying to see a lot of chasers I hadn't even tagged myself, it had spread really fast. So fast even that Relet informed us to be the first to cover the finish, a muddy hill with a castle on top.
Relet had been right, my buddy spotted a runner soon after we arrived at the finish. We hid behind a sign and a tree and caught her by surprise.
The location of the finish was awesome, but it would have been more epic if less chasers had left the game prematurely. In the end however, most of the people that made it to the finish, did so because they were willing to crawl up the hill through the muddy forest. Chasing somebody there was definitely a spectacular experience (my costume was not free from mud stains after the game). During the last stage of the game, as not that many people were coming in anymore, I was mostly enjoy the beautiful view over the city one had from up there. After the game was over, we ended the evening by getting something eat. It had been an amazing experience.
5 vote(s)
Terms
(none yet)
0 comment(s)