25 + 110 points
March 25th, 2008 2:29 PM


I have been collecting comic books since

G.I.Joe #2

came out in 1982 and now have a complete collection. And my love of the media soon blossomed. I began collecting

X-Men

a few years later. I now have a complete run of

Uncanny X-Men

from issue

163

up (I have a few below 163, but the run is perfect from 163 to present) as well as

every single X-Men spin off comic ever published

. I have all of the

Wolverines

(even the

four issue mini series

), All of the

New Mutants

,

X-Factor

,

Excalibur

, even the crappy limited series' like

Storm

and

Dazzler

, as well as all of the new(er) series' like

Cable

and

X-Statix

and the excellent

Exiles

. But I'm not just an

X-Men freak

, I collect

many many different books

, I have every book

Warren Ellis

has ever made, complete runs of

Transmetropolitan

and

The Authority

and

Planetary

and all of his

short run

and

independent work

, I even have his

novel

. I also have all of

Brian Michael Bendis'

work, from

Jinx

and

Torso

up to

Powers

. I have everything by

David Mack

(read

Kabuki

if you haven't, you will not be disappointed). I have complete runs of

100 Bullets

and

Y: The Last Man

and

The Losers

as well as

many others

.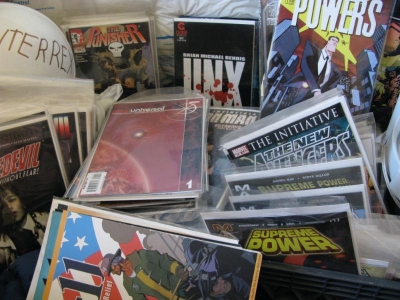 Which is all well and good and explains why I'm so poor. But as soon as I read this task, I stopped going to the comic book store. Actually I hadn't picked up any books all winter, and there's a box of books waiting for me at my comic store right now, and I was all excited to go get my books and geek out with them for a few days as soon as I had a day off of work, but I read this task before I got a day off of work. And if there is any addiction I could kick, this would be it. So I have. And this written up praxis has been sitting in my very large queue for a very long time. It had been sitting in there for so long because I didn't want to post it right away and say that I kicked the habit, because who knows how long it takes to kick a habit? So I just figured I'd wait a very long time. And the events of
this task
made me submit this task today (because they kinda go hand in hand). So it's been six months of no comics for me, and it has been very very difficult. Here listen to this:
It wasn't until after I'd recorded and listened back to that phone message that I realized I completed both halves of this task. I hadn't meant to get addicted to anything. But I think my tasking history shows that I have.
---
Update - July 2009
It has been over fifteen months since the posting of this task, which means twenty one months of not buying any comics. That's almost two years now. I have gone two years without buying any comics. I sometimes cannot believe it. Going to the comic book store was a weekly routine for me for a very long time. A very long time.
I have updated this task today, because I just bought two new filing cabinets so all of my books that have been living in boxes for the past many many years can now have a proper home. But before I put them in their cabinets I have to reorganize. So I have spent my 4th of July weekend sitting amongst piles and piles of comic books, organizing and sorting and on occasion reading through some old forgotten gems.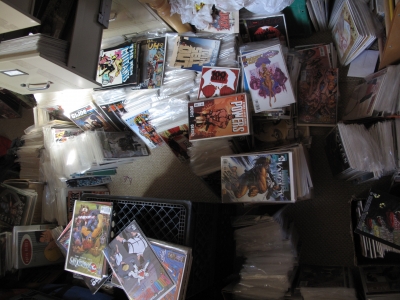 I'm reminded again about how much I miss my friends. I went into a comic book shop in San Francisco a week ago and looked around, but it wasn't as hard as this going through all of my books and seeing how every line stops somewhere in the middle of 2007. I miss my fictional friends.
---
Update - February 2011
It has now been three years since I have bought a comic book. In that time I have had a few good friends who are comic book geeks and who identify with me solely on the grounds of being a comic book geek "How long is this abstinence supposed to last? When can you get back to reading comics again?" And I always answer that I'm not sure. Maybe forever.