25 + 50 points
July 25th, 2012 12:30 AM


Ever since discovering this task, I have been thinking of all the epic places to install hammocks. I

have a record

of rigging things in interesting places, and setting one up on

Kjerag

for example would have a certain level of epic.

I'll keep that in mind. There are plans and opportunities.

But for now, let's remind us what the best part of hammocks is: Hammockery! Lazing around in a hammock for hours, reading, thinking or just swaying in the wind. Therefore, the best place for a hammock is where people have access to it. Especially, where you have access to it, daily. Not in a remote mountaineous area. Hammocks are meant to celebrate coziness and prepare for serendipity.

So I am taking this task as an opportunity to celebrate that I moved. I just gathered the last boxes of might-still-be-useful-stuff from my old apartment and moved them into the new house. I have been living there for a while already, so the actually-used-stuff has moved earlier. And we installed a hammock.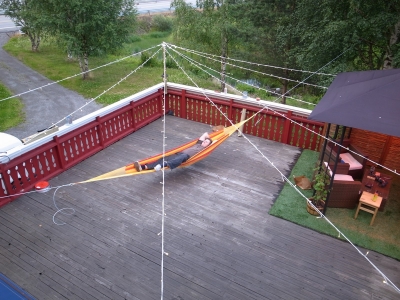 It's optimized for swaying gently by being attached to two distant trees on either side of the terrace using steel cables. My housemate clearly approves. The cat still doubts the value of such an unstable dwelling.
To make it short: We installed a hammock.
The rest of the pictures are just there to illustrate how amazing this place is (and how happy I am. I don't mean to brag. You're all
invited
!) I finally live in a house by the fjord, which is what you are supposed to do when in Norway. And I don't own any of this, which may even be a good thing.
11 vote(s)
Favorite of:
Terms
(none yet)
7 comment(s)